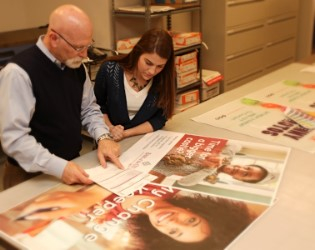 The "It" Factor
It is that certain something that sets a brand apart.
It builds confidence and instills trust. It lets actions speak louder than words.
It speaks volumes with every pixel, every promotion and every page.
It sets the standard through a signature level of quality.
It proves just how powerful a personal connection can be.
It is why our customers put their business in our hands.
Because at RiverCity Print & Imaging, We Make It Happen.
---
RiverCity Print and Imaging is a full-service marketing and print company proudly located in Little Rock, Arkansas. With strong roots in the South, many of our customers are small to medium-sized businesses located within central Arkansas. In addition, we service Fortune 500 accounts with offices across the country.
Since first opening as a small print shop in 1977, we have expanded our service offerings to include marketing, design, mailing, sign printing and promotional printing. At RiverCity Print and Imaging, our knowledgeable and dedicated print experts are here to help you effectively communicate your message to your audience. Whether your goal is to generate sales, build awareness, promote an event or educate clients, you can count on RiverCity Print and Imaging.
As a full-service printer, we utilize state-of-the-art technology in all aspects of our business. By doing so, we're able to provide a seemingly endless array of print services to meet your needs. We'll work with you every step of the way on every print project, as we strive to understand your business and your message. Whether you're looking to improve your marketing programs, develop a new direct mail campaign or create promotional products for your next event, RiverCity Print and Imaging is here to help.
To request an estimate, place an order or get help with a new project just enter our customer service section. If you would like to speak with a Customer Service Representative, give us a call at 501-227-5000 or toll free 888-707-9999.